BRANCH MEETINGS
TIME: 10:00 – 10:30  – Coffee and Social Time
10:30 –11:00 – Business Meeting
         11:00 – 12:00 – Speaker/Presentation
        12700 SE 32nd St., Bellevue (Factoria area)
       Branch meetings are open to the public.
---
LAKE WASHINGTON BRANCH MEETING
WEDNESDAY, April 11, 2018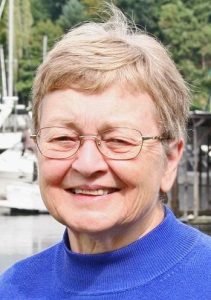 Karen Anderson grew up in a struggling working class family in Lawrence, Kansas.  There she benefited from a strong public school system and family support for educational achievement.  She received a B.S. in education from the University of Kansas in 1969 and a Ph.D. in history from the University of Washington in 1975.  Her specialties included women's history and the twentieth century United States history.
Karen taught history and women's studies at the University of Arizona for over 30 years.  Her publications include Little Rock:  Race and Resistance at Central High School (Princeton University Press, 2011) and Wartime Women: Sex Roles, Family Relations, and the Status of Women During World War II (Westport, CT: Greenwood Press, 1981).
A lifelong feminist, Karen joined AAUW after moving to Gig Harbor in order to do what she could to advance women's empowerment.  She currently serves on the board of the Gig Harbor branch and as public policy chair for AAUW-WA.