BRANCH MEETINGS
TIME: 10:00 – 10:30  – Coffee and Social Time
10:30 –11:00 – Business Meeting
         11:00 – 12:00 – Speaker/Presentation
        12700 SE 32nd St., Bellevue (Factoria area)
       Branch meetings are open to the public.
---
LAKE WASHINGTON BRANCH MEETING
WEDNESDAY, FEBRUARY 14, 2018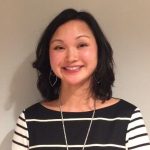 In 1987, Stephanie Gardner attended an Expanding Your Horizons Conference in Colorado as an 8th Grader.  She later earned a bachelor of science degree in Mechanical Engineering from the University of Colorado. Stephanie is currently the Manager of Interiors Engineering at Alaska Airlines.  Prior to working at Alaska Airlines, she worked for Boeing for 19 years as a structures engineer and customer support account manager.
Stephanie has been an Expanding Your Horizons Conference workshop presenter for Middle School and High School students for the past 15 years.  In her spare time, Stephanie now enjoys spending time outdoors and volunteering for her daughter's Girl Scout Troop and PTA organization.  Stephanie lives in Ballard with her husband and 2 daughters.