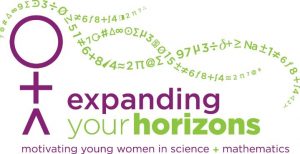 EXPANDING YOUR HORIZONS 2018
FRIDAY, MARCH 30 at BELLEVUE COLLEGE
JOIN US FOR AN OUTSTANDING EXPERIENCE!
EYH—it's all about STEM (Science, Technology, Engineering and Math) Education and Careers!
Fifty-five interesting and informative hands-on workshops presented by over 100 professional women in STEM-based careers are available for high-school girls (Grades 9-12) to choose from. Our major goals: to introduce young women to a variety of STEM-based careers and increase their interest in continuing their education in order to have the most choices for a productive, fulfilling life.
Girls get to experience three workshops with choices from architecture to zoology. More than 60 volunteers–members, friends, and family– help with check-in and registration of girls and presenters and guide them to the workshops on campus. Counselors and interested parents have a companion program which includes attending one of the workshops. In addition, there is a Career Fair during the lunch break for students and adults that features exhibits by STEM-related businesses and higher education organizations. Lunch is included for all participants.
The brochure for the 2018 conference and adult registration information forms are now available on this website. It's important to register early, since workshop size is limited in order for attendees to have the best experience.